EDIT MAIN
Brookwood Middle School

Our Story
Brookwood Middle School is located in the village of Genoa City. Our staff provides a safe, welcoming learning environment for our district's fourth through eighth graders. A balanced, rigorous and relevant curriculum is offered that focuses on 21st-century learning and life skills. Students use the latest technology to enhance their learning and engage in personalized learning focused on their individual learning needs and/or interests.
Brookwood Middle School is a learning community of 300 students. High academic and behavioral expectations are present for all learners. A balance of core academic classes and related arts classes is available for our students. Related arts classes available to students include the following: 2-D Art, 3-D Art, Printmaking Methods, Creative Crafting, Advanced Art, Band, Jazz Band, Music Composition, World Music, Music History, Choir, Show Choir, Book Club, Creative Writing, Leadership 7, Leadership 8, Spanish I, Spanish II, World Language Lab, Beginning Game Design, Beginning Robot Programming, Advanced Game Design, Advanced Robotics, and 3-D Printing. Academic Target sessions in math and reading are available as well as a study hall for those students who want a jumpstart on their homework and/or needs assistance in completing assigned classwork. Our staff strives to know students and their families on an individual level, which is achievable due to the size of our middle school.
A variety of extracurricular activities is offered to complement the daily curriculum and extend students' learning beyond the classroom. Basketball, Softball, Cross Country, Track, and Volleyball are available to both boys and girls. Beyond sports, students may participate in Cheerleading, Student Council, Spelling Bee, Geography Bee, Battle of the Books, Forensics, Yearbook, and the annual Musical. Enrichment opportunities are provided that include but are not limited to, various sports, crafts, science activities, and cooking. Grade level after school guided study halls are provided Tuesday through Thursday.
Parents and teachers engage in meaningful conversations, as needed, to guide students to proficiency in each of the curricular area content standards. In order to assist these purposeful conversations, parents have immediate access to their child's grades, attendance, and lunch account balances through Infinite Campus. Both parents and their children are encouraged to check regularly their student's progress.
Principal
Dr. Michael McCabe began his career in education teaching special education and At-risk at the high school level in Kimberly, Wisconsin. While completing his Masters' Degree from UW-Oshkosh, he became fascinated by and inspired to teach student-directed project-based learning. This led to future teaching opportunities at the middle school level. When asked about teaching in so many different settings over a 9-year period, Michael stated, "Every opportunity prepared me for the big job of being principal at Brookwood Middle School". Most recently, Michael was the principal at St. James School in Madison, Wisconsin. He coached high school basketball and track, and was the varsity boys' basketball coach at Edgerton High School.
In addition to holding licenses for special education, alternative learning, principal, and district administrator, he continues to be fascinated by student engagement and has been fortunate to spend time in the summer traveling the world to investigate what other schools are doing to have kids want to be at school. He has presented at conferences on the topics of classroom and program design, and developing student leadership programs.
Michael is looking forward to joining the Genoa City Jt. 2 School District community. He is grateful for the opportunity to serve at middle school with such supportive parents and community members!
Michael's wife, Emmy, is a high school art teacher, they have three children: Josie, Margaret, and Eliza. His faith and family are central components to his life, and he is a fourth generation educator. Michael's great-great grandmother was a teacher at one-room schoolhouse in Kansas. Michael's grandfather was a teacher at St. Patrick's in Cedar Rapids, Iowa. Michael's mother is a retired school counselor, and his father is a retired superintendent.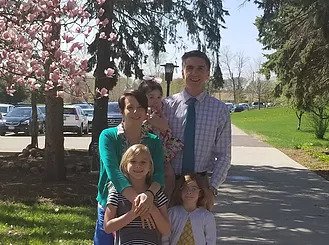 Michael McCabe
Principal - Brookwood Middle School
Michael.McCabe@gcj2.k12.wi.us
262-279-1053 x1107